10 years of Feed Forward feedback sessions for Larta's NIH CAP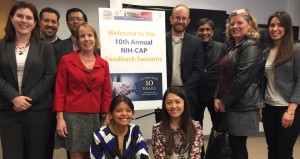 "Innovations often start as ideas in search of applications," remarked Rohit Shukla, CEO of Larta Institute, in his closing remarks at Larta's "NIH CAP Feed Forward" feedback sessions. "We designed our Feed Forward sessions along the lines of our Network-Centric Model, to solicit the wisdom of our network of industry and domain experts in intimate closed-door sessions. They guide our portfolio companies in the program to hone their strategy, focus on the right opportunities, and build the best commercial pathway for their innovative products and services."
For the last ten years Larta Institute has been producing feedback sessions for companies going through Larta's ten month NIH Commercialization Assistance Program (CAP). This year's sessions were held in Los Angeles in late February and in Washington D. C. on March 3rd.
Feed Forward sessions occur near the mid-point of the program, when companies have already met and worked with their Principal Advisors. Principal Advisors are contracted professionals who guide the companies through a series of deliverables. The deliverables are structured to ensure companies develop business strategies to see them through an 18-month period after they "graduate" from the program.
In the two-hour Feed Forward sessions, Larta's portfolio companies have an opportunity to test their business strategy on experienced professionals. "Afterward, companies take what they have learned and continue to work with their Principal Advisors for the duration of the program. Usually this time is spent amending, reworking, recalibrating and otherwise re-engaging their strategic and tactical issues," Rohit explains.
Larta's Feed Forward sessions are a visible demonstration of our Network-Centric Model, and have a well-deserved reputation for redirecting startups in our programs toward creating and managing a more sustainable business model. They create the opportunity for companies to receive one-on-one feedback from experts in our network on winning strategies to introduce their innovations to the marketplace.
"Often, we will see brilliant scientists who have made the transition to entrepreneur, but struggle with understanding the challenges of running a business, and getting a product to a successful commercial exit," remarked Constanza Pachon, President of Larta Institute. Feed Forward sessions are one of the ways Larta helps innovators make that leap from the lab to the marketplace. "Expert advice from industry insiders is key to the development of their commercialization strategy," she continued.
Nineteen companies enrolled in the NIH CAP attended the L.A. Feed Forward sessions, hosted at the law offices of Buchalter Nemer in downtown Los Angeles. Thirty-four more companies gathered in Washington D.C. a week later, hosted by Venable LLP.
Companies' innovations ranged from Healthcare IT and medical devices to biotechnology and pharmaceutical products, from Diagnostics to Research Tools. All have received at least two rounds of non-dilutive funding from NIH through its Small Business Innovation Research (SBIR) Program.
What could become a flood of information and perspective for our companies, is tempered by the culture of collaboration Larta sets for the mentors and companies. "Our Professional Mentors, and domain and industry experts are drawn from our network, including our Industry Advisory Board. It's our Network-Centric model in action. This group incorporates product development professionals, regulatory experts, intellectual property attorneys, marketing and market development consultants, venture investors and in-harness executives with specific domains in the life sciences," explains Rohit. This year's feedback professionals included decision makers from GE Global Research, Johns Hopkins, Medtronic, City of Hope and TEDCO.
When asked what value he finds in participating as a mentor in Larta's Feed Forward sessions, Daniel McChesney from DeciBio Consulting replied, "I do it for several reasons. I'm here because this is one of the things I can do that keeps me current, keeps my finger on the pulse of what's cutting edge. I work with potential buyers, so while I'm here, I keep my eyes open for my clients." He added, "I also do it because, frankly, taxpayer money goes into these grants which are awarded by academics for academics. I think it's important to give these early companies a business perspective. I think it helps them make that shift to commercialization."
Commenting on the value for the companies, Larta Senior Program Manager, Judy Hsieh adds, "If you are a drug or medical device company in the business of diagnostics or treatment, you know you are going to have to go through the arduous FDA process. Now imagine having a one-on-one with a high level FDA representative in your feedback session, as we had in D.C. That's huge for a company. There's a lot of value in that. Or, if you are a company who has a product you want to sell to Medtronic, and a high level individual from Medtronic sits in on your session, their feedback is invaluable to your company. Those experiences don't happen by mistake. We work hard to create these situations for our companies."
Larta recognizes each company is unique, with its own internal assets, its own history, its own values, and its own understanding of the challenges ahead. Feed Forward sessions enable them to set themselves at a level consistent with feedback from a variety of mentors. It's a transformative experience for the companies.
"It was clear that the people in the room understood the technology we presented, and they understood how to get this technology to the marketplace," says Ali Hussein, representing Ension, a startup in surface technology. "The session was more helpful than I had anticipated. The suggestions we got were a push in the right direction for us."
Once again, companies walked away with new directions to pursue, double down on existing direction, new contacts and resources, and a renewed focus on the practical steps necessary to deliver on their commercialization prospects over the next two years.
For more on Larta's Feed Forward sessions, read Lance Manning's 2012 article.