15 orgs in LA you need to know in urban ag
On a warm night in October, roughly 120 of LA's urban ag farmers, advocacy groups and investors gathered at Local Roots, an indoor farm in Vernon, CA, for a Larta Institute forum on urban ag. Larta's Global Ag Innovation Network (GAIN) organizes discussions and networking events across the country with the aim of facilitating learning and networking around areas of interest in agriculture, as it evolves and changes. "GAIN gives us an opportunity to continue throughout the year conversations we've started at our Ag Innovation Showcase," says Rohit Shukla, Founder and CEO. The quarterly series shines a light on topics such as gene editing, women in ag, agtech and urban ag.
The evening event opened with a panel of indoor ag experts, which was followed by a moderated open mic for LA's urban ag community. "Urban ag has a tendency to fragment. We saw the open mic as an opportunity for folks to introduce themselves and expand their urban ag world," says Claire Kinlaw, Director of Larta Institute's Ag Practice, the organization's fastest growing area, which includes GAIN, the Ag Innovation Showcase, and exclusive commercialization programming for the USDA.
The event attracted a diverse audience from LA County: aficionados of indoor ag, agtech, food justice, community gardening, traditional and organic farming. It was a friendly and outgoing group.  Claire Kinlaw, who moderated both the panel and the open mic, set the stage with a respectful tone, one that resonated throughout the evening.  An illuminating panel discussion (see accompanying post by Claire Kinlaw—link to this here) was followed by an Open Mic session.
A Who's-Who open mic of LA urban ag experts
Andrew Blume is a volunteer from the Association for Vertical Farming. The growing organization has been in operation for 4 years. He asked urban ag professionals and enthusiasts to lean on the Association for Vertical Farming if you want to reach large or small companies. With 80 members in 17 different countries, they have a growing global platform. They went from 1 to 10 multinational companies from 2015-2016.
Andrew also introduced the crowd to their AVF Award, which works to get young people involved in urban ag solutions. The 2016 AVF Award award attracted 300 student-led teams from around the world to develop concepts in urban vertical farming and try and win their fair share of over $10,000 in prize money.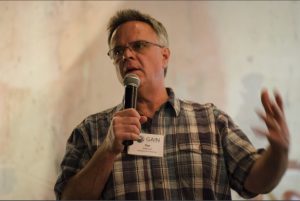 Tim Alderson from Solutions for Urban Ag said a few words about his non-profit organization which was founded in 1991. Their mission is to offer innovative solutions to some of the pressing food security, public health, ecological, workforce and education needs facing urban environments today. They seek to implement innovation in scalable agricultural systems, enabling urban land to be sustainably managed to produce food while protecting and improving environmental resources. Service areas of the organization include: landscape systems, ag education for children and adults, food bank, food panty support, land lease alternatives, and more.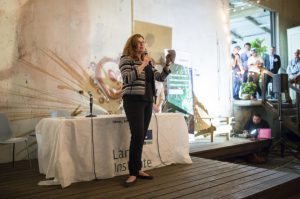 Eileen Cullen, faculty member at Cal Poly Pomona's Plant Science Department, says their program, in the Don B. Huntley College of Agriculture will launch a university-wide minor in Urban Agriculture Fall semester 2018.
Eileen and her Plant Science colleague Dr. Aaron Fox are working with faculty, students, community groups, businesses, non-profits, and grant partners to develop the program. Several classes are on offer now (Urban Agriculture, Culinary Produce Technology, Organic Agriculture, Farmers' Markets). The 18-unit minor focuses on: small-scale sustainable production, urban ag business models, and community ag policy.
Eileen offered to put together a tour for us around Cal Poly Pomona campus and program.
Claire Fox from the Food Policy Council, a non-profit organization established by the City of LA under Mayor Antonio Villaraigosa stepped onstage to invite folks to Annual Food Day at LA City Hall on Tuesday, October 26th 2016.  The organization convenes stakeholders from across our regional food system to collaborate on policy to create a healthy, sustainable fair food system.
Fox says that the Annual Food Day is an event where all of us in the movement show up to illustrate the diversity of issues we represent for the City Council to take note. Eight different working farms showcase their work. "It's a great time to plug in," says Claire.
She also introduced us to a new program available through LA County called Urban Ag Incentive Zones. This program offers a property tax reduction to landowners who open up their land for urban ag use. The idea is to activate vacant or underutilized land, although you could have structures on the land.
Rishi Kumar, is Director of a non-profit organization called The Growing Club. The organization teaches the local community about our urban ecosystem through workshops, videos and events. They operate a ½ acre urban farm in Pomona. They practice ecological "in ground" farming, and distinguish themselves as "farmers" not growers or "farmers who are connected to their local community and ecosystem," as Rishi puts it. The Growing Club grows food and gives back to the community. They have a four month free farmer training program, through which they have trained 30 farmers.
Rishi joked that the most advanced technology they use is an Excel Sheet. Their half acre grew 8,573 pounds of food. They have redirected 23,425 pounds of food from landfill, and they use 24K gallons of water a month – the equivalent of a small household. They have planted 89 trees and are currently talking to Carbon Credit Capital to generate carbon credits for the work they're doing.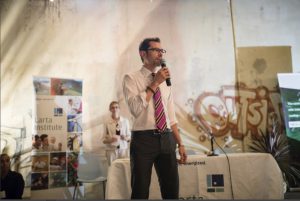 Chris Rico is no urban ag expert, but neither is he a stranger to innovation. The Director of Innovation from LAEDC stepped onstage to thank everyone for making Innovate LA a success. InnovateLA has 160 events over 18 days, 30 of which he has personally attended so far. LAEDC is 35 year old private non-profit economic development corporation with a mission to increase prosperity in LA. "There's a lot of innovation in LA, and it's amazing to see there is so much innovation related to food here in LA," said Chris.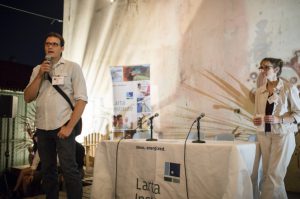 Our Foods' Executive Director, David Rosenstein, spoke about his organization's belief that urban agriculture education is not about growing food, but it's about setting the stage for a more resilient and scalable future. Our Foods is a social enterprise dedicated to urban ag education, training and ultimately job creation. Now in their second year, they have launched 21 projects within the state of California. To illustrate what they do, David told us about a project they have in the San Francisco County Jail where they developed a curriculum teaching adult males who are working toward a high school diploma how to get a degree in urban ag, through the lens of aquaponics. "Some of those people have graduated and are getting out of jail. We will be able to get them into a paid workforce development program in San Francisco. By the end of the year we will be able to hire some of these people," said David.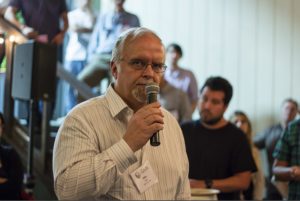 Mike Miller is the Founder of Wildhorse Labs, an international accelerator. They have 3 ag startups: one here in Los Angeles in aquaponics, one agtech innovation center in the Bahamas, and they are working with a group in the Inland Empire to start an agtech innovation center with government investment support. Reach out to them if you are looking for international experts, VCs, or Angels.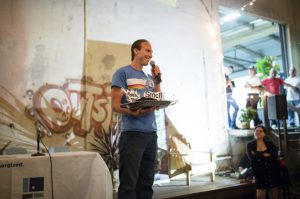 Steven Wynbrandt from Wynbrandt Farms, brought a platter of dark, moist compost, inviting everyone to smell and touch it. He wants to "take the super out of supermarket." He started his business in his backyard in 2009. He's part of an ecological movement, Bio Dynamic Agriculture, that restores the practices of the natural world. He grows soil out of cow dung and alfalfa and sells it directly to consumers, farmers and gardeners. Steven wants to make the most fertile compost possible so people can grow nutrient rich food.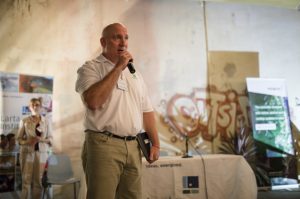 Jim Pantaleo from Urban Ag News introduced himself to the crowd, letting folks know that Urban Ag News is about educating folks about urban agriculture. He wants to hear from them about what they are doing, and get what they, the urban ag crowd, are doing into his online publication. Contact him at: www.urbanagnews.com.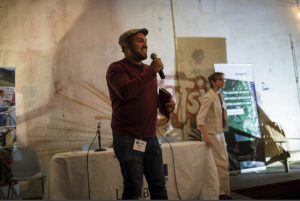 Michael Martinez, Executive Director of LA Compost is a native Californian, who grew up near a landfill here in LA County, which closed in 2013. He noted that LA is the most populated city in the county, with over 10M people eating every day. LA Compost is the first county-wide compost program. They are going neighborhood by neighborhood, making sure people are connected to their food and that they understand the cycle from farm to table to compost back to farm. The organization was founded 3 years ago. They have eight compost hubs currently, and are opening another ten next year with a waiting list of thirty-five. "Food and soil is so diverse," said Michael. "What makes LA so beautiful is no one looks or thinks the same and I think the soil and the food that we grow can be as diverse as our communities." Learn more about the LA2050 Challenge here.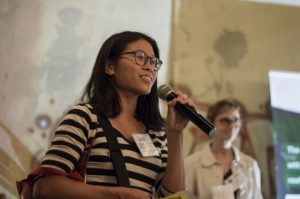 Rae Chen Huang, Executive Director from Give Urban Farms, provided a fitting close to the Open Mic session. With a goal of working toward the greening of LA, she asked her peers and colleagues in the crowd if anyone knew of technology that has been successful for wall gardens. The crowd directed her to great sources, such as Vertical Field in Israel, and Grow Next, which grows salad walls. Several other folks invited her to talk to them for more information.
Local Roots, the event's host, provided tours of their facility.  This local company does us all proud in its commitment to urban agriculture.  This is what it means to them: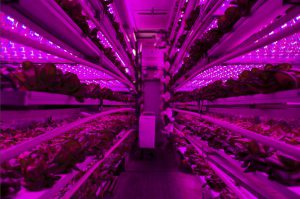 Once again, GAIN succeeded in creating an intimate, collaborative space for professionals and amateurs alike, united by their love of food, forage and farming.  It fostered learning and networking.  It underscored the interest and passion of the highly creative urban dwellers in this extraordinary megalopolis, one that, unlike most urban areas, has an abundance of prospects to pursue in its bucolic environment.