A Soft Landing for two Romanian innovators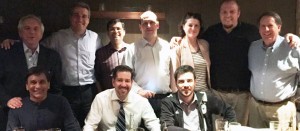 "It's a warm handoff, a soft landing, into a new network," says Larta Program Manager, Marco Henkel.
Larta Institute launched the second cycle of our Romanian Innovation Commercialization Assistance Program (RICAP) "Soft Landings" last month in February.
The program is a partnership with local partners Cridl and GEA Consulting, with Larta taking the lead on mentoring and U.S. based connections and networking. RICAP features two cycles per 15 month period, with 15 companies per cycle. Companies in the program are paired with a Larta "principal advisor" who is "shadowed" by a local mentor in Romania. This local component has been designed by Larta as part of our commitment to building a support network in partner-countries. The objective of the program is to help selected Romanian entrepreneurs to address their unique gaps and challenges, and receive one-on-one assistance on how to reach their commercialization goals. To date, 30 entrepreneurs have been helped in the two cycles of RICAP.
Each cycle offers a Soft Landing visit for two companies in the program. Two Romanian startups are invited to Southern California for an immersive, customized week-long program involving feedback from and presentations to potential partners and buyers.
"We've arranged for several targeted meetings, which have resulted in several real prospects for our portfolio entrepreneurs in RICAP. Building networks of influencers, partners and customers is our calling card in all of our programs. For RICAP entrepreneurs, the work we've begun with them in the Soft Landings sets them up for a clearer follow-up plan once they exit the program," says Rohit Shukla, CEO of Larta Institute and U.S. based RICAP Program Director.
Axosuits and Flashnet were the Romanian companies who made the trip to Los Angeles in this last cycle. Axosuits is a medical device company that has designed a high powered, low cost exoskeleton prototype for the elderly who have trouble walking and disabled people who are paralyzed or limbless. Flashnet is a tech company that specializes in innovative energy management featuring LEDs, specifically for street lighting applications.
Axosuits' goal is to reduce medical costs and the social cost of being disabled. Their inspiration came from the Iron Man movies. Flashnet seeks to help urban municipalities become "smart cities" by optimizing the grid of street and utility-based lighting.
"We're looking for new ideas here in the U.S. in terms of applying our product," said Radu Craciun of Flashnet.
Both companies had specific agendas to follow for the week, which included a kickoff breakfast with the Romanian Counsellor for Economic Affairs in Los Angeles, who offered his insights and help. Their agendas included three days of meetings with marketers, product developers, VCs and strategic introductions with possible clients. The companies were given ample opportunities to give their pitch, refine their pitch, and understand what kind of pitch to give to whom.
About the trip, Romanian RICAP Program Director, Dragos Pislaru said, "I was impressed. Both companies were open and received the feedback well. This process will continue after the visit, and they will continue the relationships with the people they have met here. This isn't an isolated event for them. Rather a kickoff for further business development."
"I felt like I got an idea of what Americans want to hear in a business pitch," remarked Andrew Kapy of Axosuits.
By the end of the week, each company met with prospective clients. For Flashnet, that meant meeting with the City of Los Angeles Bureau of Street lighting – a meeting that uncovered a possible application for them, as well as another lead in the City of Lancaster. Axosuits was invited to do testing with the Cleveland Clinic to certify the product – a necessary step for them in the process of bringing their product to the U.S. marketplace.
"I'm happy with this trip. The meetings were well targeted. The companies were given different perspectives and they learned how they are perceived in this environment," Dragos commented.
Were any deals made? "Hopefully. There were some great first conversations," said Dragos.
Axosuits is coming back next month, as a matter of fact.