Promo Code for AgTech Week June 22-24, San Francisco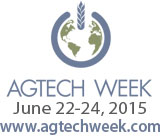 In June, Larta is launching AgTech Week in partnership with GAI (Global AgInvesting) and HighQuest Partners. This two and a half day agriculture investment conference, focused especially on what is being called "new ag," runs from June 22-24, in San Francisco, California. Expect to see high-level keynotes, moderated conversations with industry trendsetters, interactive workshops, and spotlight presentations by innovative companies.
If you register now, you can get 10% off your registration fee with this discount code: ATW-LRT10
Keep an eye on their website for updates on this conference.