Larta launches 2015 GAIN series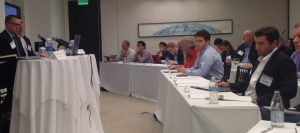 Ag is big business. That's why we are talking about it.
Larta's Global Ag Innovation Network (GAIN) had its 2015 debut in Palo Alto at the offices of our GAIN partners, Sidley Austin, March 5th. The theme of this event was "closed loop systems" – or sometimes called "controlled environment agriculture" or indoor agriculture - referring to the practice of growing produce in physically contained environments.
There has been a lot of activity in this area in the last few years. AgFunder's 2014 Investing Report, shows that indoor agriculture received seven percent of invested dollars in 2014, and is being driven by local food movements and water conservation efforts, among other things. The average deal in 2014 for indoor agriculture rounded to $11M, setting it firmly in the mid-range for investments.
Larta Institute has also seen this grow as a trend among its USDA program companies, including Metrocrops, which grows high nutrient leafy greens under LED lights in urban spaces, and Biolumic, an Ag device company that harnesses the power of UV to control plant responses and maximize commercial benefits. The Ag Innovation Showcase, a premier industry event managed by Larta, has also featured companies over the years with specific offerings in closed-loop and vertical agriculture.
Working together with Sidley Austin, Larta brought four panelists together from several sides of the issue to discuss loop systems solutions at the GAIN event. The panel featured  Guy Blanchard, VP of Corporate Development of AeroFarms, Sonia Lo, CEO of One Crop Holdings, and Matt Vail, Co-Founder of Local Roots Farms, and was moderated by Nicola Kerslake, Founder of Newbean Capital. Larta's Carlos Gutierrez and Sidley Austin's Josh Hofheimer, kicked off the morning for the lively discussion.
The group discussed "going organic," vs. not going organic. Reasoning is it is difficult to achieve "organic" status for hydroponics. In fact, the question of the day was, can it ever really be organic? Two of the companies found success in focusing on the best product they can offer on a local basis without pesticides and herbicides, and by communicating that value proposition clearly to their customers. It's a strategy that is working. They are selling their products profitably and at scale.
They also spoke of targeting food deserts, urban neighborhoods and rural towns without ready access to fresh, healthy and affordable foods. The focus forces them to move beyond specialty niches, and into other crops like cucumbers, tomatoes and strawberries. They are finding that to make an impact, sustainability and social opportunity often go hand in hand.
Finally they discussed achieving scale and the challenges it produces, particularly for vertical farming. All three companies on the panel are continuously working on this. It takes a lot to get a closed loop system going, including robotics and automation, engineering and a plant scientist on hand, let alone an optimal team with specific skill sets needed for this industry sector.
The event took place in the morning with over 50 people attending. Larta intends to move the event to different locations, giving our full Ag network geographic access to the series.
GAIN has been under Larta leadership for a year and a half as a welcome addition to our growing Ag practice. GAIN is no longer a membership organization. Anyone may attend. To get more information on our next quarterly discussion, email the program at gain@larta.org.