Growth within - promotions
Congratulations to Larta's Cindy Le, who was promoted in July from Associate to Senior Associate in Larta's Marketing and Communications department.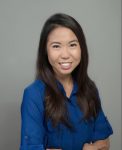 Cindy joined Larta in July of 2015 and quickly became a valuable member of the team. Cindy manages our social media, and co-marketing agreements. She is a regular contributor to Vox, and is a tireless researcher for information about our companies. Additionally, her input has elevated Larta's quarterly team bonding activities.
Cindy graduated from USC's Marshall School Business in 2015 and landed her first job at Larta less than a month later. She originally comes from Hawaii, and plans to participate in the 2016 YMCA Library Tower climb in September on the Larta team.
Congratulations, Cindy!