Larta events: AgTech Week & Ag Innovation Showcase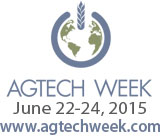 While agriculture as an asset class has not exactly been a magnet for private equity and venture capital, that trend is changing. Our friends at AgFunder have mapped and documented this in their AgTech Investing Report. The report identifies factors that show the industry to be at a tipping point for investment. Larta is well poised at the front of the wave. We have curated, coached and presented scores of ag innovators across its many sectors, and have been active in hosting and networking investors in the space.
So it is with great pleasure that we give an early "heads up" to our ag innovators, industry experts and investors about two dynamic ag events on the horizon.
In June, we are launching AgTech Week in partnership with GAI (Global AgInvesting) and HighQuest Partners. This two and a half day agriculture investment conference, focused especially on what is being called "new ag," runs from June 22-24, in San Francisco, California. Expect to see high-level keynotes, moderated conversations with industry trendsetters, interactive workshops, and spotlight presentations by innovative companies. Keep an eye on their website for updates on this conference.
September 14-16 will mark Larta's sixth year convening and presenting the Ag Innovation Showcase which we have developed in partnership with Bio-Research & Development Growth (BRDG) Park, and Donald Danforth Plant Science Center. The event  takes place in St. Louis, and has become an industry favorite for ag innovators from around the world, industry leaders and investors. The focus of the conference is on early stage innovations in agriculture's various sub-sectors, and is also a well-known world-class networking event. The 2014 data on the conference are impressive and speak to Larta's role in building and sustaining the profile of the best innovators in the field: 83% of the presenters in the Ag Showcase found new investor leads, and presenting companies raised $330 million after the event.