Larta in the news: Ag Innovation Showcase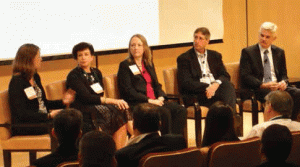 The Ag Innovation Showcase, organized jointly by the Larta Institute, the Bio-Research & Development Growth (BRDG) Park and the Donald Danforth Plant Science Center, has become one of the world's most important forums on agriculture innovation. In case you missed it the first time around, Farm Industry News has you covered. Their December and January issues highlighted the transcripts of two panels from our 2014 conference.
Farm Industry News' December issue focused on our "Future of Farming" panel. The panel, executives from big name ag companies, kicked off their discussion with a goliath of a question: how can farmers produce enough food to feed more than 9 billion people by 2050, given the challenges of agriculture, such as climate change, water shortages, resistant weeds, new insect pressures and increased demand for meat in countries like China and India? Read the panel's transcript here.
Panelists were Moderator Joshua Hofheimer from Sidley Austin; John Sorenson from Vestaron Corp, Laura Shenkar from Artemis Water Strategy, Philippe Herve Head of R&D Alliance Management from Bayer Crop Science, and Harry Stine from Stine Seed Co.
The Ag Innovation Showcase panel highlighted in their January issue, "A New Paradigm for Biotech in Agriculture," focused on how the role of biotechnology in agriculture has gone well beyond genetically modified plants. The panel was comprised of leading industry experts and entrepreneurs with Moderator Sara Olson from Lux Research, Pam Marrone from Marrone Bio Innovations, Kelly Smith from AgBiome, Douglas Ry Wagner from Agrinos and Marcus Meadow-Smith from BioConsortia Inc. You can read the lively moderated discussion here.
Ag Innovation Showcase will meet in 2015 from September 14-16, in St. Louis, MO.