Larta Institute staff promotion and new-hire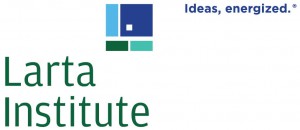 Marco Henkel, one of Larta Institute's dedicated team members, was promoted from Programs Manager to Senior Programs Manager in November. Marco has been with Larta since January 2011, when he assumed responsibility for Larta's contracted NSF Commercialization Assistance program (NSF CAP). Also in his corner is the NIST Phase I Commercialization Assistance Program, Global Bridge Romanian Innovation Commercialization Assistance Program (RICAP), as well as Larta's webinar series.
Under Marco's leadership Larta will be launching a pilot program for NSF Phase II Biosciences companies in 2016. And, Marco has joined the team to help enrich Larta's Industry Advisory Board membership.
We congratulate Marco on his good works and new roles.
We also welcome a new team member, Kristopher Saliba.
Kristopher (Kris), our newest member on the Dev team, was hired in November as our Junior Software Engineer at Larta Institute. He brings his expertise to work on central initiatives – improving our user experience both internally and externally on our Portal.
Kris's passion for programming has him looking forward to expanding his skills in a nimble environment like Larta. He is also excited about making sure his contribution helps us reach our mission – to energize the transformation of technology ideas into solutions that elevate economic opportunities and make lives better for people around the world.