Larta's favorite moments from the Ag Innovation Showcase
Eight from Larta institute, attended/worked/networked at our Ag Innovation Showcase in St. Louis last month. In case you missed the Showcase, or even if you didn't, here are the perspectives of members of the Larta team on the ground. Creating a community
"We are committed to building and nurturing a community. The Ag Showcase does this in spades, and not just through the carefully curated conversations (panels), solutions (showcase companies) and networking (all attendees) but through the relationships that develop because of the Showcase. My best moments were the social ones, meeting and conversing, however briefly, with entrepreneurs and executives, attendees and thinkers alike. More to the point, in the bar at the Frontenac at the end of the evening, plumbing the "downtime" with energized, enthusiastic fans of the Showcase, flitting from one group to another, and indulging in raucous fun and frivolity." – Rohit Shukla, founder and CEO, Ag Innovation Showcase co-founder
Ideas, energized prize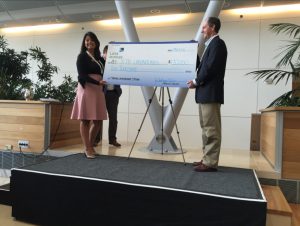 "It was such an excitement and honor to give away Larta Institute's first "Ideas, energized" prize to XTB Laboratories, from Davis, California. XTB's innovative plant disease diagnostic process has the potential to protect citrus orchards from "citrus greening." Our prize, which includes a $10,000 monetary reward, as well as a suite of one-on-one services from Larta, was designed to recognize one of the companies we work with throughout the year for its novelty and market potential. The prize package is intended to help the company achieve an specific milestone towards market entry. " – Constanza Pachon, President and COO
Gene editing discussion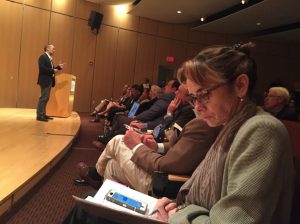 "The highlight for me at Ag Showcase was the gene editing disruptive dialogue, Gene editing – new frontiers, new challenges. It's a discussion that is incredibly important to not just those of us in science, technology and innovation, but really, to all consumers of food. Not quite a "do over" for GMO, but definitely a new opportunity to communicate the ethical application of this new technology. There were three valuable takeaways from the panel, 1) new gene editing technologies are likely to be easier and cheaper to adopt, giving opportunity to democratize the technology and create opportunity for smaller players in ag, 2) how to best approach consumers, whose food choices are usually emotional choices. The science community needs to enter the conversation with an emotional language consumers will respond to, not with a barrage of facts, and 3) engage now with the public, and don't slip under the radar. Build trust that will enable technology in food and agriculture." Claire Kinlaw, Ag Practice Director
Koolmill and Ignitia company presentations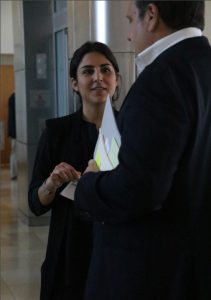 "As someone who sees every company application received to present at the Ag Innovation Showcase, there two companies this year I thought were exciting:  Koolmill and Ignitia. Both of these companies technologies give smallholder farmers better tools to create a sustainable and reliable food production system for themselves and their communities.
Ignitia is developing the world's first tropical weather forecasting system that delivers up-to-date weather information to farmers in West Africa directly to their phones via SMS. The accurate data increases yields for small scale rural farmers who depend on the land they cultivate to feed their communities.
Koolmill has created a new rice milling technique that is more efficient and produces a greater return of food than traditional milling systems. Rice is an essential part of the daily diet for over 3.3 billion people who face poverty. A more efficient and economic milling device means more people can be fed.
At Larta we are always looking for technologies that create a positive social impact. It was a pleasure to have Koolmill and Ignitia present at the Showcase and it is our hope that their focus on small holder farmers will broaden the discussion of agricultural technology to beyond the developed world." – Alana Pacheco, Senior Associate, Ag Practice
Showcase Companies and Spotlight Session, Blake Hurst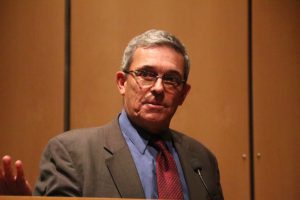 "Hands down, my favorite part of The Showcase is actually, the showcase. I find the 20 novel companies, presenting to the knowledgeable crowd incredibly inspiring. The creativity of their innovations, the dedication to their companies, and the fearlessness of putting themselves in front of a crowd that knows what it's looking for - all of it inspires. This year was no exception. It's tough for me to single out one company, but I end up liking them all. I will say, as a native Californian, I was impressed with the showing of California companies this year. (Five out of 20!)
The "spotlights" this year were also one of my favorite things about The Showcase.  Blake Hurst, farmer, caught my attention, especially when he spoke about how amiably consumers embrace new technology when it comes in the shape of their phone, but not so much in the shape of gene edited plants." – Corey Carleton, Director of Marketing and Communications
Diversity of the crowd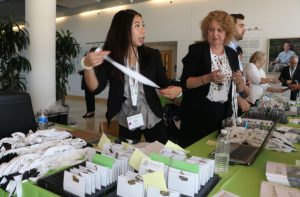 "The crowd at Ag Innovation Showcase is truly remarkable in its breadth and depth. Over 400 people attend the conference, representing 18 countries and 34 states. The event casts a wide net of entrepreneurs, investors, industry specialists, scientists, university student innovators, and government officials from five countries. Since a good portion of the crowd are investors, the event is worth every penny if you are a presenting company. And with 20 novel companies at the showcase, it's a big bang for your buck if you are an investor. With over 250 meetings scheduled on LartaLink (and those are just the ones we can track!) good things (aka, deals) are bound to happen at Ag Innovation Showcase." - Cindy Le, Senior Associate, Marketing and Communications
Spotlight Session – View from the Innovator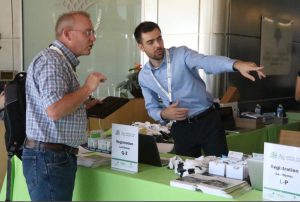 "The View from the Innovator spotlight by Matt Crisp from BensonHill Biosystems, an Ag Showcase alum, was impactful in my opinion. Matt hit the bullseye on the societal purpose of innovation and what drives him as an entrepreneur with these few simple words, "innovation is about value creation." His poise talking to attendees in the room and being able to relate to the innovators at the event impressed me. Watching him at The Showcase, among his colleagues, it was easy to see why his company is doing so well." – Marco Henkel, Senior Program Manager
University Showcase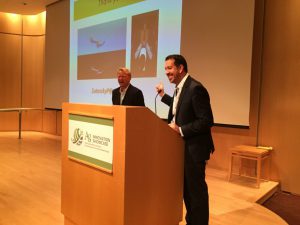 10 University innovations showcased at a sponsor led Special Content Session on Wednesday, Sept 14th in the AT&T Theater. It was a chance to see very early innovation in the pipeline. So early, some aren't companies yet.
"The University Showcase session was new this year and added a different dimension to the event. While investors and industry are primarily seeking deals and collaborators, they also want to track promising scientific projects and commercially relevant ideas to keep on their radar. The session we designed did that, and more. Over 100 people packed in the auditorium to get a good look at what's coming next." - Carlos Gutierrez, Chief Strategy Officer