New beginnings at Larta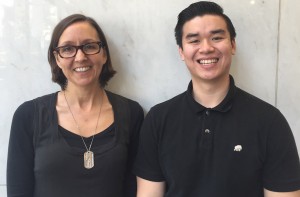 Allan Tang, was promoted to Lead Software Engineer last month. Allan has been working for Larta since December of 2012, as an IT professional, and contributed to redesigning Larta Institute's website in 2014. Going forward, Allan will be responsible for implementing software requirements and designing modules, in addition to taking on the responsibilities of a Project Manager. Allan likes to read programming blogs and textbooks to stay up-to-date with software engineer best practices, latest trends and technologies. In his spare time he likes to go to the movies, play basketball or go to Disneyland on his season pass. We are lucky to have him. Congratulations Allan!
Corey Carleton was hired in January as Larta Institute's Communications Director. Corey comes with nearly a decade of experience in Marketing and Communications, as well as a background in Economic Development. Corey designed an internal storytelling program at City National Bank that won national attention, as well as an external marketing campaign designed to keep their clients engaged. Before that, she was the Assistant Director for the Los Angeles Economy and Jobs Committee, and Project Manager at LAEDC. In her spare time, Corey volunteers at her daughter's school in Silverlake and sings Baroque music. Welcome Corey!