Recognizing entrepreneurial success - Larta's portfolio companies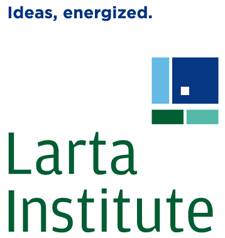 Startup success does not play out the same for every company. For some startups it means an acquisition. For others it means funding, a merger, or partnership. Oftentimes it's not the success you initially set out to attain. Part of a startup's commercial exit is knowing how to recognize success and change your company's course with it. Learning to pivot is a crucial and challenging part of being an entrepreneur.
The successes of our portfolio and alumni companies is what inspires us to continue to turn out quality commercialization programs year after year. Join us in congratulating some of our entrepreneurs for their success stories and commercial exits over the last six months. We are proud to be a part of their journey.
Take a look at what success looks like for Larta's portfolio companies.
May 2015 - AppScale, a 2014 Larta NSF CAP Phase-1 company from Santa Barbara, California, was tapped by Google for a unique collaboration to further the interoperability between Google App Engine and AppScale. Google will be investing engineering resources and contributing to AppScale's open source platform to create a seamless experience for both sets of users.
May 2015 - Eureka Genomics, a Larta 2014-2015 USDA CATP company from Hercules, California was acquired by Affymetrix for $15M. Eureka Genomics uses the power of Next Generation Sequencing to develop and market low-cost diagnostics for biomarkers of inherited genetic traits, cancers and infectious diseases in humans, animals and our environment. Read about it here.
April 2015 - FierceBiotech IT reported that Schrödinger, a Larta 2014-2015 NIH CAP company from Portland, Oregon landed a $120M deal with Sanofi. Schrödinger is a scientific leader in computational chemistry, providing software solutions and services for life sciences and materials research. The company aims to provide integrated software solutions and services that truly meet its customers' needs. They want to empower researchers around the world to achieve their goals of improving human health and quality of life through advanced computational techniques that transform the way chemists design compounds and materials. Read about it here.
April 2015 - Invictus Medical, a Larta 2015 NSF CAP Phase-1 company from San Antonio, Texas, raised $5M in Series A funding and is now securing an additional $4.5 M in Series B funding for the commercialization of their GELShield – a new technology intended to make neonatal intensive care units more conducive to newborns' cognitive development.
April 2015 - Synthonics, a Larta 2012-2013 NSF CAP Phase-1 company from Blacksburg, Virginia received $2M in equity investment from Recipharm for their development of metal coordinated pharmaceutical drugs. In their CAP, they worked with a Larta Principal Advisor on their Road Show Presentation and 18-Month Commercialization Roadmap. Read about it here.
April 2015 - Bert Thin Films, a Larta 2015 NSF CAP Phase-1 company, received matching funds from the State of Kentucky to the tune of $150K. Bert Thin Films came out of University of Louisville's Conn Center of Renewable Energy Research. They have developed a conductor for solar cells made from copper ink that could lower the cost of solar cells by replacing the current standard silver conductors. Read about it here.
March 2015 - Actuated Medical, a Larta 2014-2015 NIH CAP company from Bellefont, Pennsylvania announced a partnership with Stanford University. They signed a licensing agreement to develop Stanford University's technology for cardiac atrial fibrillation. As a result, Actuated Medial spun out a new company called Actuated Cardio Engineering in which Stanford University and its inventors are minority shareholders.
March 2015 - GenomeWeb announced that Lucigen, a Larta 2014-2015 NIH CAP company from Middleton, Wisconsin, received $2M from unidentified investors to fund final development of the firm's ClariLight molecular diagnostic platform, perform final preclinical studies and conduct a clinical trial with Clostridium difficile in 2015. Read about it here.
February 2015 - The St. Louis Business Journal announced that Vasculox, a Larta 2014-2015 NIH CAP company from St. Louis, Missouri, received $1.27M to continue developing drugs for disorders including leukemia, lymphoma and solid tumors. Read about it here.
January 2015 - OnCyte, LLC, a division of Celdara Medical, a 2012-2013 Larta NIH CAP company from Lebanon, North Carolina, and its portfolio of immune-oncology CAR T cel product candidates was acquired by Cardio3 BioSciences for an upfront payment in cash and stock, developmental and sales milestones associated with each of the three products and the allogeneic platform, and tiered royalties on sales. Celdara Medical and OnCyte will continue to collaborate under a five year sponsored research agreement. Read about it here.
Celdara's Chimeric Antigen Receptor (CAR) technology developed by OnCyte uses human Natural Killer cell (NK cell) receptors which, unlike traditional CAR technologies, have the potential to target a broad range of liquid and solid cancers via a human natural receptor that targets ligands present on most tumor types.
December 2014 - Clarassance (now Therabron Therapeutics), a Larta 2012-2013 NIH CAP company from Rockville, Maryland, closed a Series B investment for $11.1M to further develop recombinant human CC10 protein for the treatment of respiratory diseases.
December 2014 - Zoll Medical Corporation announced the acquisition of Advanced Circulatory, a Larta 2014-2015 NIH CAP company from Roseville, Minnesota. The acquisition included AC's technologies using the body's own mechanisms to enhance circulation without the use of pharmaceutical or other agents. Read about it here.
December 2014 - Aframe Digital, a Larta 2012-2013 NIH CAP company from Reston, Virginia was acquired by NEOS Technology Group. Aframe provides real-time, continuous health and safety monitoring solutions for seniors, patients managing chronic conditions, and other at-risk individuals, with proactive, exceptions-based alerting to help caregivers quickly attend to or avert crises. Read about it here.
September 2014 – The New York Times announced that Lift Labs, a Larta 2011-2012 NIH CAP company from San Francisco, CA was acquired by Google. Lift Labs design high-tech eating utensils that make it possible for people with neurodegenerative tremors to feed themselves. Google integrated Lift Labs into Google Life Sciences. Read about it here.