US DOE Awards Over $5 Million to Larta Affiliated Companies
Recently, five of Larta's portfolio companies were awarded by the U.S. Department of Energy a total of $10 million in Research and Development Funding, along with five other research projects, to facilitate small business innovations that fit into one of two categories: clean coal and carbon management and oil and natural gas technologies. The $10 million grant is derived from the Small Business Innovative Research (SBIR) and Small Business Technology Transfer (STTR) programs and will help foster commercialization of innovations in clean energy management and natural gas from the private sector. These same companies have each experienced one of Larta's trademark CAPs. Specifically, the U.S. Department of Agriculture – Commercialization Acceleration Training Program (USDA-CATP), the National Science Foundation – Commercialization Acceleration Program (NSF-CAP1), and the U.S. Department of Agriculture – Commercialization Acceleration Program Phase 1 (USDA-CAP1). These programs contain a combination of one-on-one mentorship with one of our Principal Advisors, business strategy development, interactive webinars, strategic introductions and exposure to potential partners or investors, with the ultimate aim of accelerating companies to the marketplace.
Among the ten companies chosen, the five Larta affiliates exemplify creativity and breadth in their approaches to innovations in clean energy and represent a variety of small businesses across the energy industry. Meet our companies, below:
Altex Technologies Corporation, Sunnyvale, CA – Altex's innovation is a low-cost process that directly removes carbon from the syngas in integrated gasification combined power plants, simultaneously reducing the plant's overall carbon dioxide levels and improving air and water quality (DOE share: $999,991).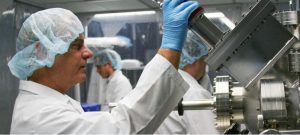 Amethyst Research, Inc., Ardmore, OK – Amethyst Research, Inc. (ARI) has developed new categorization techniques that use ion beam analysis to increase productivity through improved understanding of complex rocks. (DOE share: $999,998).
Physical Sciences, Inc., Andover, MA – Physical Sciences, Inc. proposes a development of a high-performance, unmanned airborne laser scanner that routinely maps terrain, assisting in mapping areas that are not easily reached by manned aircraft (DOE share: $999,987).

TDA Research, Inc., Wheat Ridge, CO – TDA Research will develop a Warm Gas Multi-Contaminant Removal System with the aim of advancing widespread implementation of environmentally friendly coal, resulting in more efficient use of natural resources (DOE share: $1,000,000).
Sporian Microsystems, Inc., Lafayette, CO – Sporian Microsystems has created a rapidly and remotely deployable, wireless, fully-integrated sensor system that monitors water quality (DOE share: $1,009,897).
At Larta Institute, our mission is to feed, fuel, and heal the world. We achieve this through partnering with companies in our CAP programs and catalyzing their journey to commercialization. Larta Institute is proud to work with high-caliber companies and innovators dedicated to meeting the world's need for clean energy and natural gas conservation with increasingly evolved solutions, and we look forward to seeing the next innovations our companies have up their sleeves.