Asking the experts – SBIR funding explained
As a follow up to the article we ran in June on the AgTech Week panel on non-dilutive funding Carlos Gutierrez (Larta) and Scott Dockum (USDA) led, we are running the questions their audience asked, and the answers they provided. Because entrepreneurs need all the help they can get. Are we too far along in our development to apply to SBIR?
Carlos Gutierrez – "Each case differs. I usually encourage companies to reach out to USDA SBIR and ask them directly to gauge fit. It's been our experience that companies will receive a candid reply from USDA, which is helpful because the application process is time consuming and involved."
Scott Dockum – "For the USDA SBIR program it depends. Most of the topic areas in the USDA SBIR program are designed for new innovations that need to have feasibility determined. If feasibility of the innovation is the goal, then the innovation can fit well into any of the 10 USDA SBIR topic areas. If the innovation has been fully developed and is available off the shelf then there is a possibility the innovation could be a good fit under the Rural and Community Development topic area or the Small and Mid-size Farms topic area. The USDA SBIR program is the only SBIR program where an off the shelf innovation can be funded because the innovation is being used in a different capacity such as helping a rural community thrive and/or helping small and mid-size farmers maintain productivity and profitability."
Can a Canadian or UK company apply?
Scott Dockum – "Unfortunately the SBIR statute requires that the small business be a U.S. based company."
Can a company targeting the urban community apply for SBIR?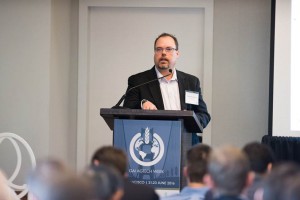 Scott Dockum – "Yes, there are many topic areas within the USDA SBIR program where urban agriculture can fit. Best thing to do is to obtain the last USDA SBIR Phase I solicitation at https://nifa.usda.gov/phase-i-phase-ii-solicitations and review section 8. This section provides a detailed description of each topic area."
Is there a direct to Phase II at USDA?
Scott Dockum – "At this time USDA SBIR does not have a direct to Phase II program. All applicants have to apply for Phase I funding first before going to Phase II."
What type of business support can an awardee expect from the USDA?
Carlos Gutierrez – "Larta, in partnership with USDA SBIR, provides both Phase I and Phase II SBIR awardees with a hands-on acceleration program tailored for each stage of funding.
"Phase I awardees are paired with a Larta principal advisor, who has domain knowledge and market experience, to develop a realistic and credible commercialization plan to improve their chances of Phase II success. Phase II awardees are also paired with an advisor with a focus on addressing specific commercialization goals, which could be anywhere from customer/market development, strategic planning for regulatory issues, positioning the venture for reference clients and investor readiness, or the next logical milestone that will confer value to the enterprise. What makes us unique is that understand accelerating businesses to commercialization takes more than a one size fits all approach. Each company has a different trajectory, and our programs are tailored to meet companies' specific needs."